NeoSkies Top 7 Cyberpunk Media You MUST See Right Now!
Updated: Aug 23, 2019
When you first get into Cyberpunk it's as if you've opened a huge can of worms and you don't even know where to begin! But don't worry I've done all the hard work for you and picked 7 of my favourite Cyberpunk media that you can watch, play or listen to whenever you want!
Note: At then end of this blog post, I've created a poll so you can vote for which media you're interested in watching, listening to or playing right now. Really excited to see which one you were drawn to the most!
OK, I've probably mentioned this movie like a million times now. Am I going to stop talking about it though?
If you have an obsession with the classics or want to watch something that has made a huge impact on sci-fi culture, then Blade Runner is the perfect fit for you! Also, if you're a fan of old Hollywood film noir, well your in for a treat. Because this film's protagonist as the characteristics of a hard boiled detective.
Another reason why you should watch Blade Runner is because of the narrative. Now...I will warn you, the plot is quite complex (well it was for me). It did take me awhile to understand what on earth was going on but if your into crime fiction that has complex narratives then Blade Runner is the one!
Lastly, the main reason who should be watching this film is because of Harrison Ford... literally. That's it. That's the tweet
One thing I've noticed when talking to people outside of the Sci-Fi community, is when you mention the word Cyberpunk, they just stare at you with a blank expression like this:
"What the fuck is Cyberpunk?" that's what they're probably thinking in their heads. But the moment I ask if they've heard of The Matrix they go:
The Matrix was a phenomenon and a hit in the late 90s. It grossed $460 million worldwide and critics praised the film for it's stunning visual effects and cinematography. The Matrix portrays a dystopian future where humans are unconsciously trapped in a computer based reality, while their bodies are being used as energy sources. It really presents the idea that we may be living in a dream-like reality and the world we think is real is actually not. But I'll let you be the judge of that.
If you love action packed scenes, this movie has many of them! So if you love cinematic stunts like characters dodging bullets in slow motion? The Matrix has got it! The film is known for popularising this visual effect which is called Bullet Time. Let me give you a little snippet:
Isn't that awesome?
Let me start of by saying this is one of my sister's favourite games and she wouldn't stop bugging me to play it. So when I did, DAMN, this shit good!
If you love playing action and role playing games then I highly suggest you play Deus Ex Mankind Divided. It's a game that focuses on the huge divide between the augmented (people who have modified their bodies to enhance or improve specific abilities) and the non-augmented. Social and political issues in a divided society are also major themes that are discussed in this game.
One of the best things about the game is the various augmentations you get to play around with. I won't spoil the fun by saying which ones are my favourites, you'll have to play the game to find out. But I promise you… it's godlike!
Just take a look at this!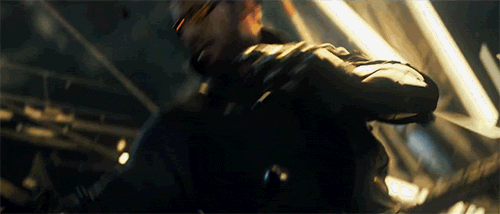 GODLIKE!
This was a game that I watched my brother play when I was younger. Ah I miss those days, Linkin Park playing on the Xbox 360 and watching Faith parkour all over the city.
Faith is the main protagonist of the game and you see the world through her eyes. Mirror's Edge takes place in a Utopian society that lives in a comfortable and almost crime free city. However, this was only achieved by the government having absolute control over its citizens, media and all the decision making of how the city should be run.
This game doesn't necessarily have a great story line, so if you're more interested in gameplay when it comes to video games, then you're going to like Mirror's Edge! You are able to interact with your environment using parkour skills, so, if you've ever dreamed of running and leaping on top of buildings look no further.
I don't talk about this show enough and that's a crime in itself. Because this has to be one of the most underrated shows in 2019. Forget Riverdale with it's lousy ass writing, go and watch Love Death & Robots [LDR]!
Each episode has a different narrative so you don't have to watch it in order. The show literally has something for everybody, so, if you love heroic stories, LDR gotchu! You like stories about brotherhood and friendship? LDR gotchu! You love bomb ass moments like this?
LOVE DEATH & ROBOTS GOTCHU!
Sorry that I'm getting loud about this show, actually why am I even apologising? This show just exceeds my expectations on what I want from a sci-fi/cyberpunk TV show. Tim Miller, Blur Studios and the many animation studios that took part in this collaborative project, truly did an amazing job.
I don't want to say too much because I just want you guys to watch and discover this world for yourself. So I'll just end with a little disclaimer: this show does have 'not safe for work' [NSFW] content in some of the episodes, so if that isn't something you enjoy, then you can skip those scenes or episodes. But besides that please go and watch it!
How can I talk about Synthwave and not mention Jessie Frye and Nina! For those of you who are new to the term Synthwave, it is a electronic music genre that celebrates the 80s, by embodying its sound and musical aesthetics. These two are currently my favourite artists from the genre and I encourage you all to listen to their music. Especially, If you're a fan of 80s music, these two have a unique style that resembles that era.
One of my favourite songs from Nina is 'The Calm Before The Storm' and it's got this smooth beat that makes you fall into a trance. It's a great track that you can look out the window and dream of your goals in life. Because even though it may not look like it now, all your hard work and energy is going to pay off. And one day your vision will come to life and explode onto the scene! It truly will be The Calm Before The Storm.
My favourite song from Jessie Frye is called Honey, I spoke more in detail about some of my favourite songs from her in a recent blog post. Click the photo below to discover more of her music.
I believe Honey is a sexual empowering anthem that embraces sensuality, especially, for women in our society. Women are usually looked down upon for this but I love how Jessie embraces this side of her!
So, now that tried my best to persuade you on each Cyberpunk medium, which one are you most drawn to right now? Let me know in the poll below.
Let me know when you've watched, listened to or played any of these mediums. I want to know what you think, especially, about Love, Death and Robots! I need to talk to somebody about this show!
Here are my Social Media Links below, don't forget to tap that follow button for updates on the blog and to see what I get up to on a daily basis!